So, this, this I have been wanting to make for a while now. The Deck of Many Things, or the Harrow Deck of Many Things, both are incredible. One has been called the campaign killer, but like hear me out. Firstly, harrow, but still, it's not uncommon that a person is getting tired of playing X character. Soooooo... how's your luck feeling that day? And otherwise make it a funsie, a like "yah no, not now, but like for funsies, do you want to see what you *wooooould* have gotten?" Like those are just fun, say it involves intentional... intent, and funsie draws are allowed, DM it. Like it could even help draw in an NPC that you want to bring into the fun, add to the experience.

And now, I'm not too sure how overall rare it is that someone has made a physical copy of the Harrow Deck of Many Things, as a physical copy of this cannot be purchased (by my hunting, as of 2021). So what I did is, I bought the actual Harrow deck from Paizo, and it arrived as the regular tarot deck for Pathfinder. The Many Things part I had to create.

And, again hear me out, half the point of this is that half of it does *good* things. And let's be honest here, between the DOMT and the HDOMT, the downsides are far more comical in harrow, and more of a storyline adventure than anything else. Like the best card got nerfed a bit, but they got rid of the worst of the worst, and yah, the rest the bad ones are comical more than anything else. And there's some hilariously good ones, like you wanna become a werebear? Get your own demiplane? Aw yeah, let's hook that up. Reforge any item (magical or not)? An item becomes intelligent? Like there's some cool stuff in here. By far the least damaging of all of the decks of many things that I've come across, and most recommendable. Well, the Tarot of Many Things is pretty funky, but I'd give this one the nod as being the tamest.

So, I set out about copying the list of effects from d20pfsrd (linked above), and popping them into Kolourpaint of all the things, and I will explain why. I wanted to be able to have the font as big as I could, so that when I printed it shrunk down, the letters would all be crystal clear. The image files for it are over here if you would like to print your own, please have at it. As well, here's the full magic item table (it shimmers!), and the text version of it too if you like.

Anyways, I designed it to be on two pages, since it was far too unreadable as a single page. To give credit to Staples though, when I did try, it was *technically* readable, as in like... an inch from your eyeball type of thing, but yah two pages. Also I needed the curses page because there's a random card for it in there, and I *cannot* come up with those on my own, I am way too much of a goodie-goodie and my brain just refuses to come up with anything. So yah, this beats standing there with a dumbfounded look on my face, for my part, feel free to skip it on yours. It's a pretty comical list tho, so that part's good. And my character can remove them anyways, so regardless. Also, having the two harrow pages on a single side gave us an extra surface for the d100 magic item table, so that works.

So to make the 'paged' side, I taped 80% of the second page down to the card (I should add, the card that I taped over is the 'created by paizo, etc etc' small print card, which has text on both sides, so that works well. It had the borders on it though, and the same card stock!). So I taped over 80% of the second page there, then put tape on the underside of the last bit, used that to make the back of the hinge for the two pages and taped the first page onto there, and then proceeded to double-side the first page with tape, as well as finish taping down the rest of the first page. This way, the hinge is essentially taped down to the card all along the seam, without that itself needing to be the actual hinge. It works well, and I folded over all tape corners so there's about 8mm of overlap over the edges. I should add that I decided to do it this way, as opposed to having the two pages directly back to back, for a few reasons. For starters, design choice, and secondly so that the text wouldn't show through and make it difficult to read. I thought about drawing the L5R/Paizo/D&D logo into there, or a Beholder or something, but I realized that I could put the magic item table on there, as well as the stats to the Holy Avenger, because that's awesome.

The magic item table actually came later, I first made the harrow bag, the miniature dice bag, and even the dice roller, before I'd finalized what I wanted on there. Oohh, and I also glittered the edges of the magic item table, and the Holy Avenger!

And so... the Harrow Deck of Many Things.

Draw a card my sweet, who knows what lays inside, EEEEEEEEEEEheheheheheheheheheeee

Built May 8, 2021 (box) through to April 29, 2022 (magic item table)


. . . . October 2, 2023: More to follow, scroll down!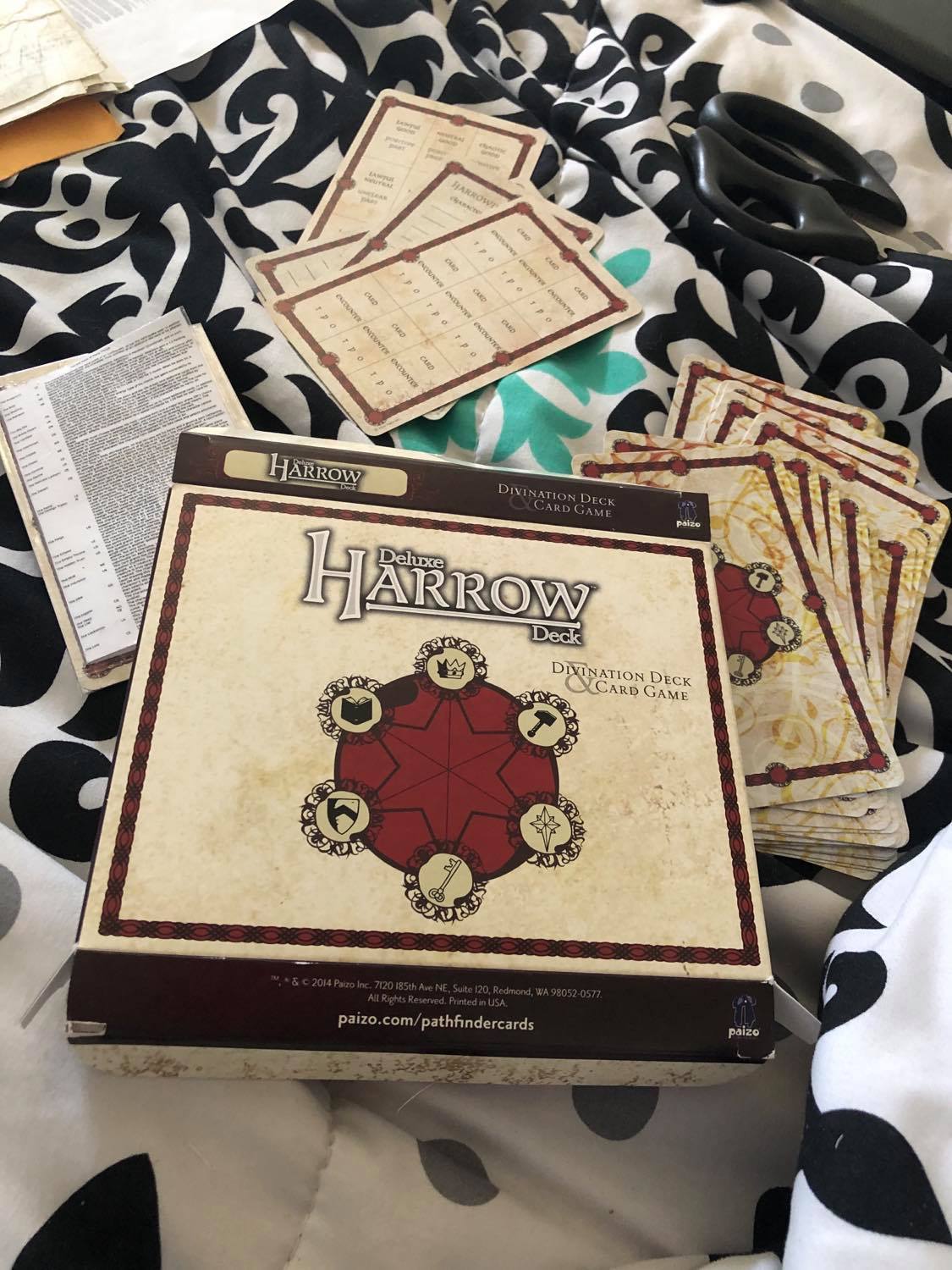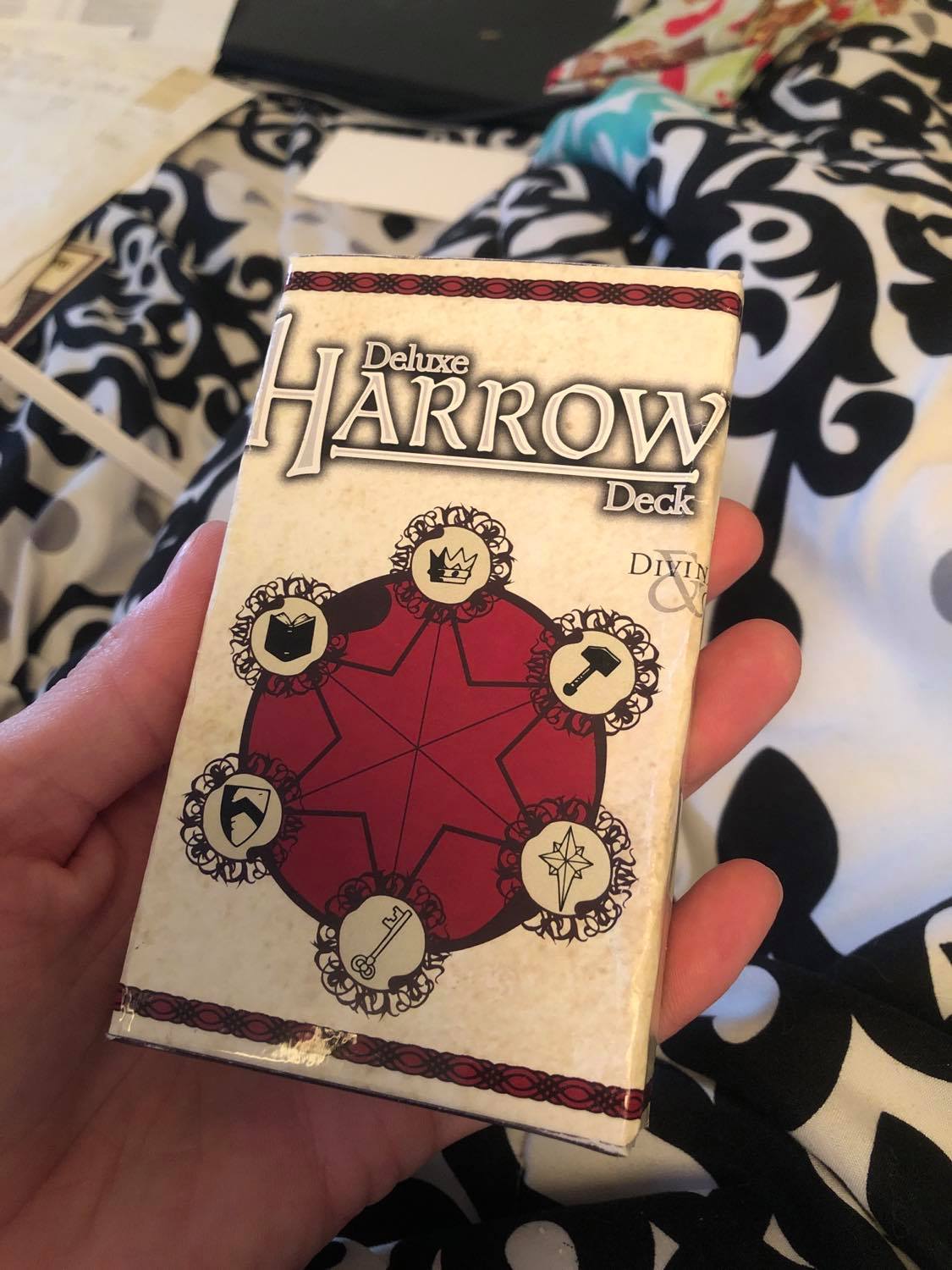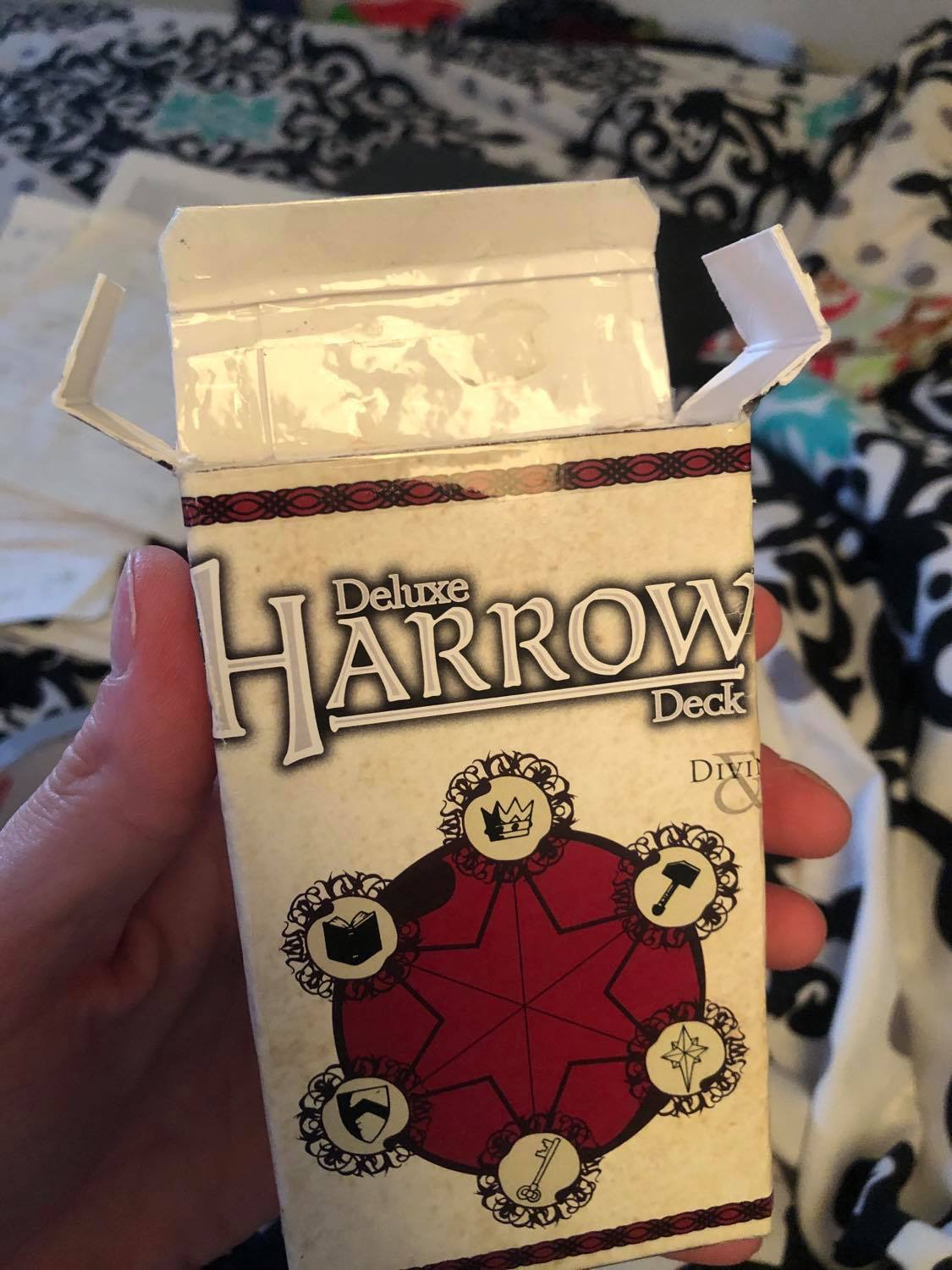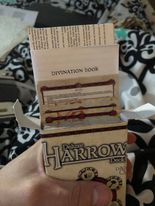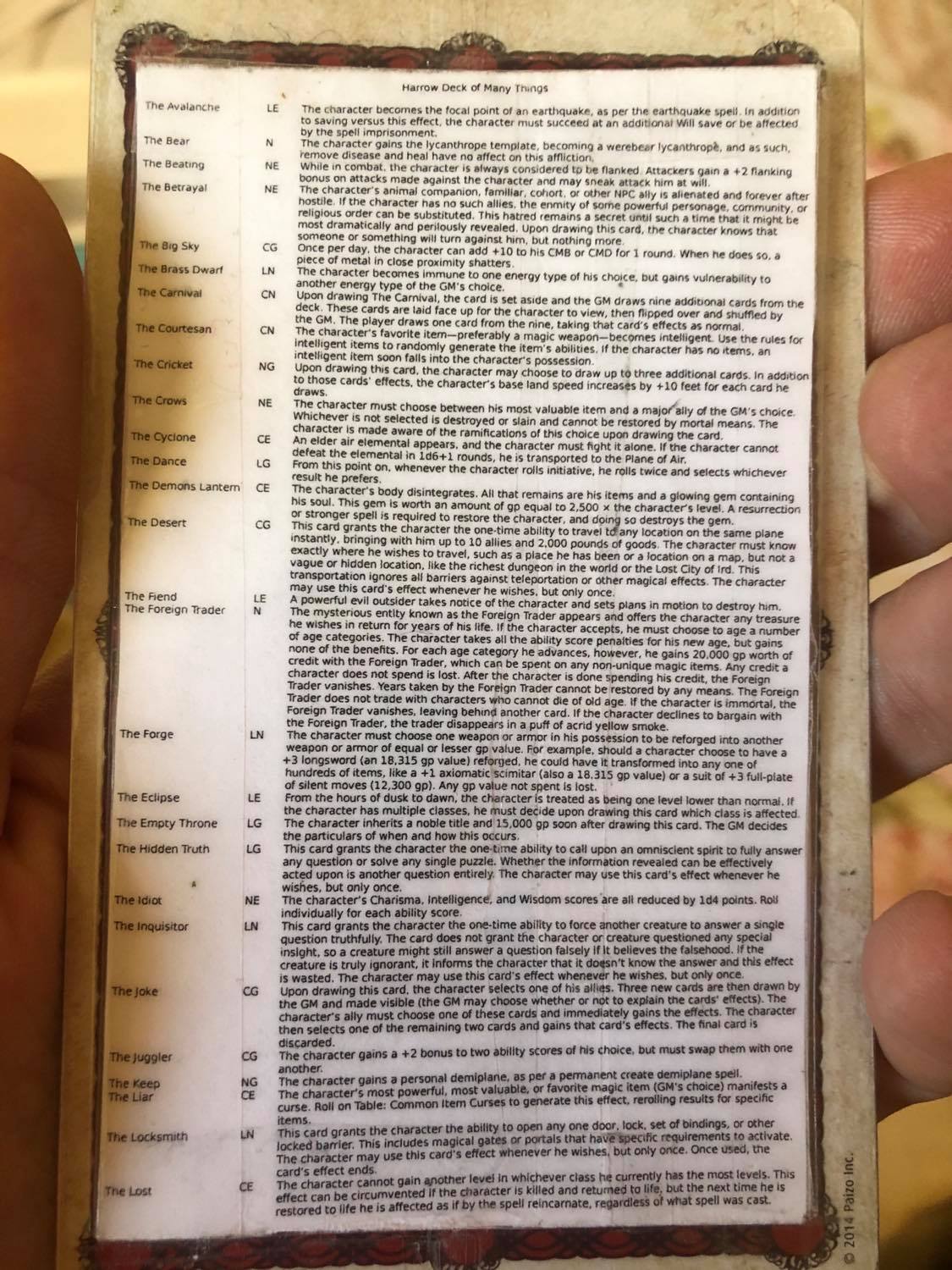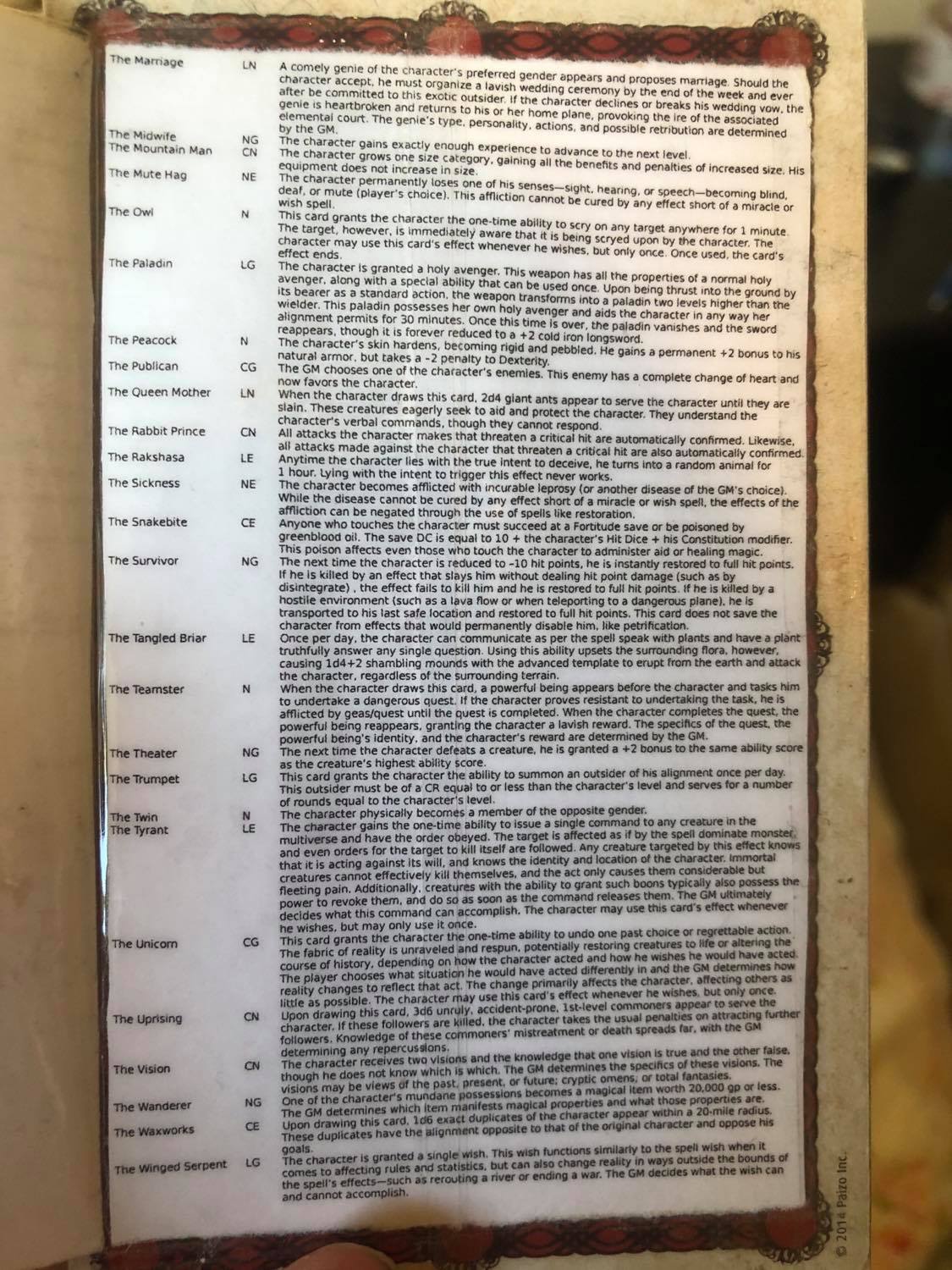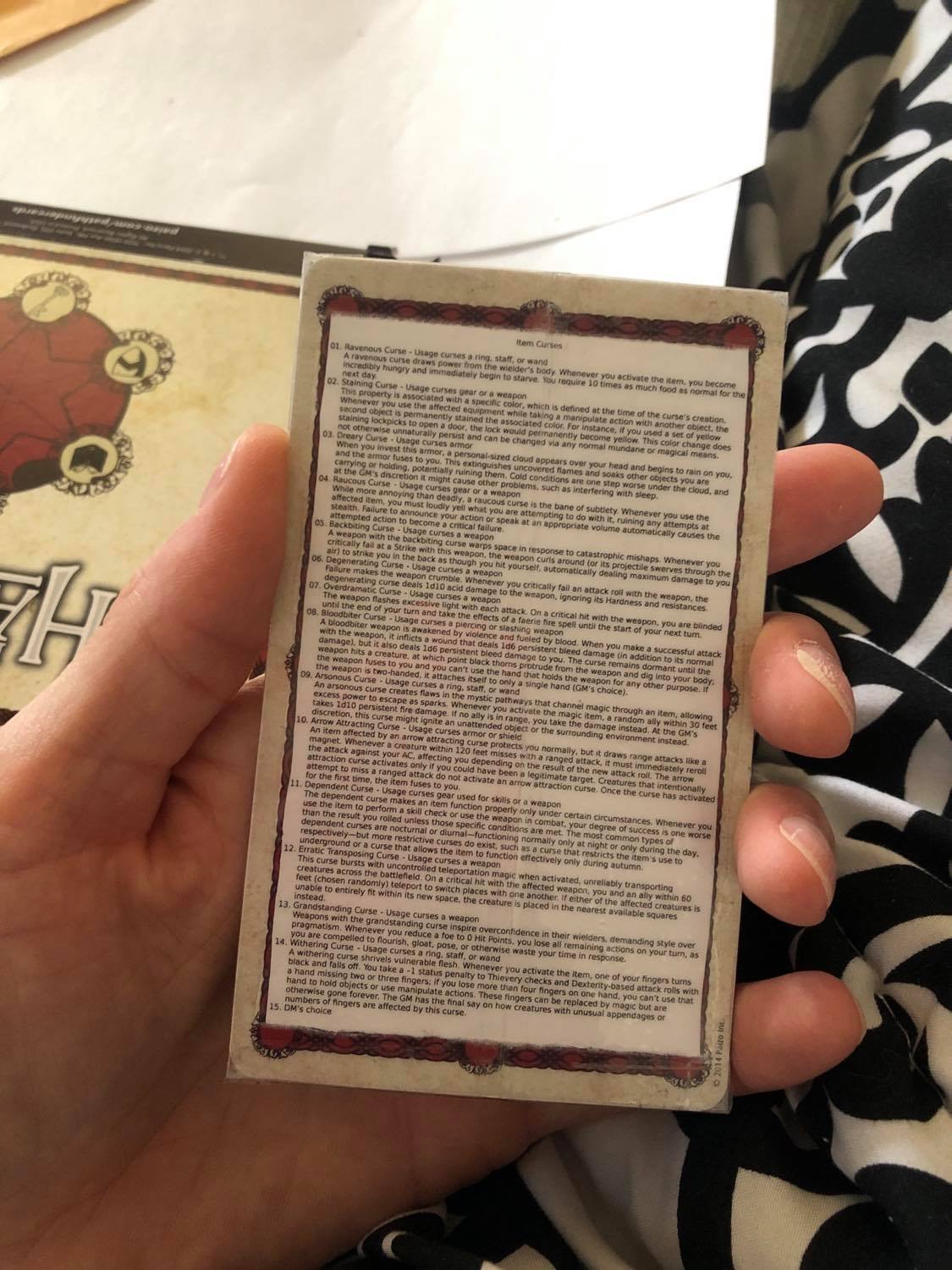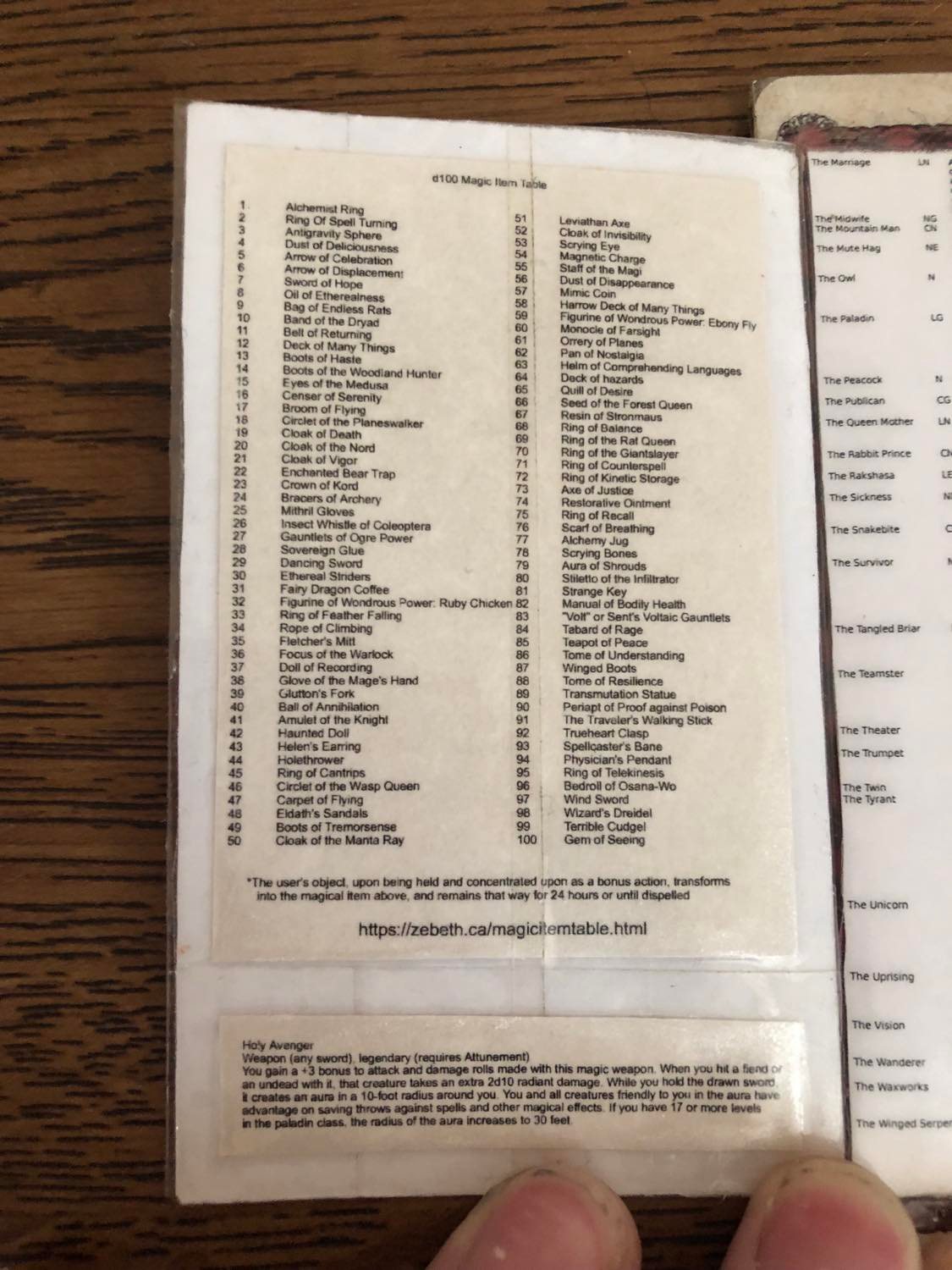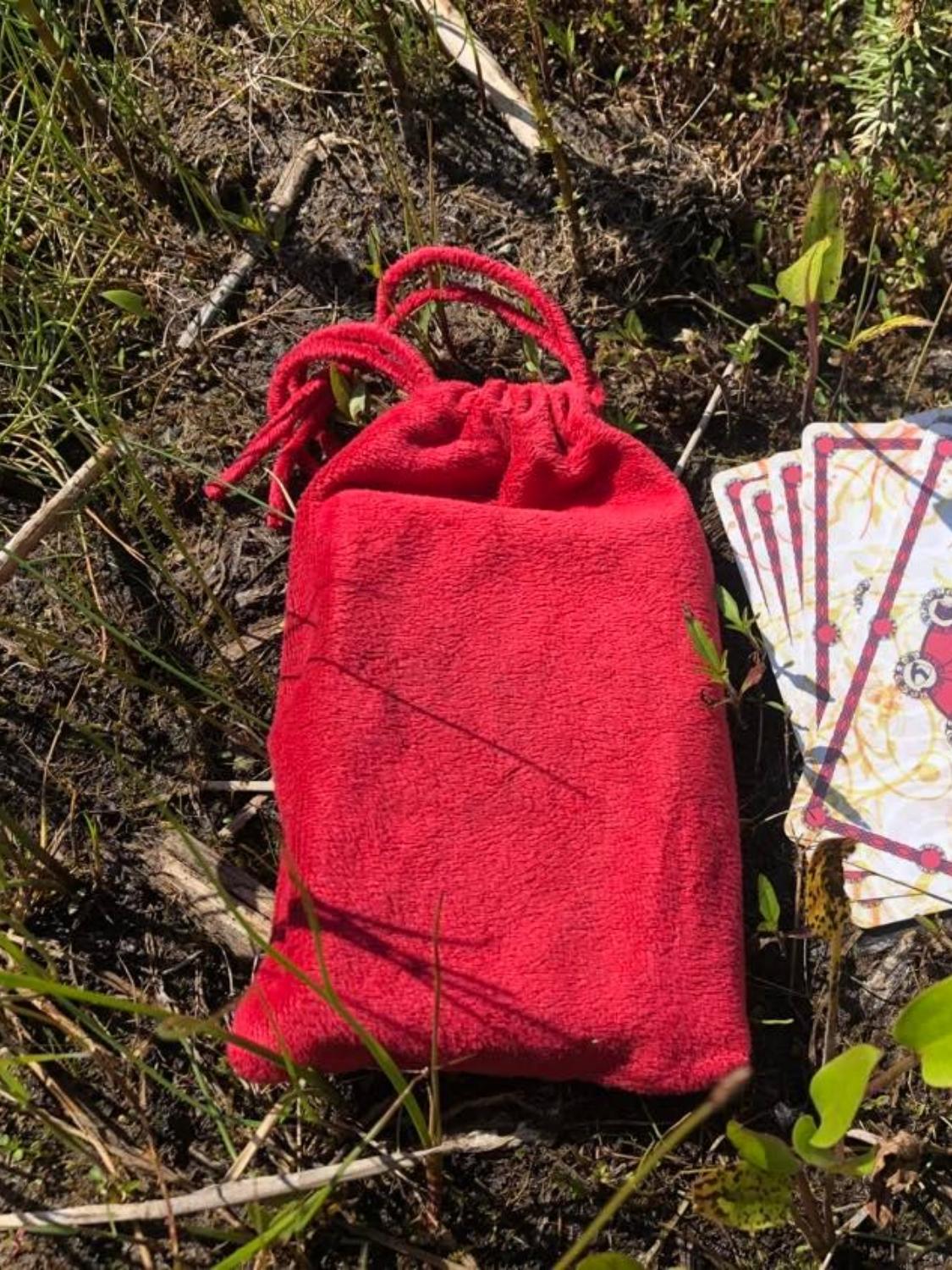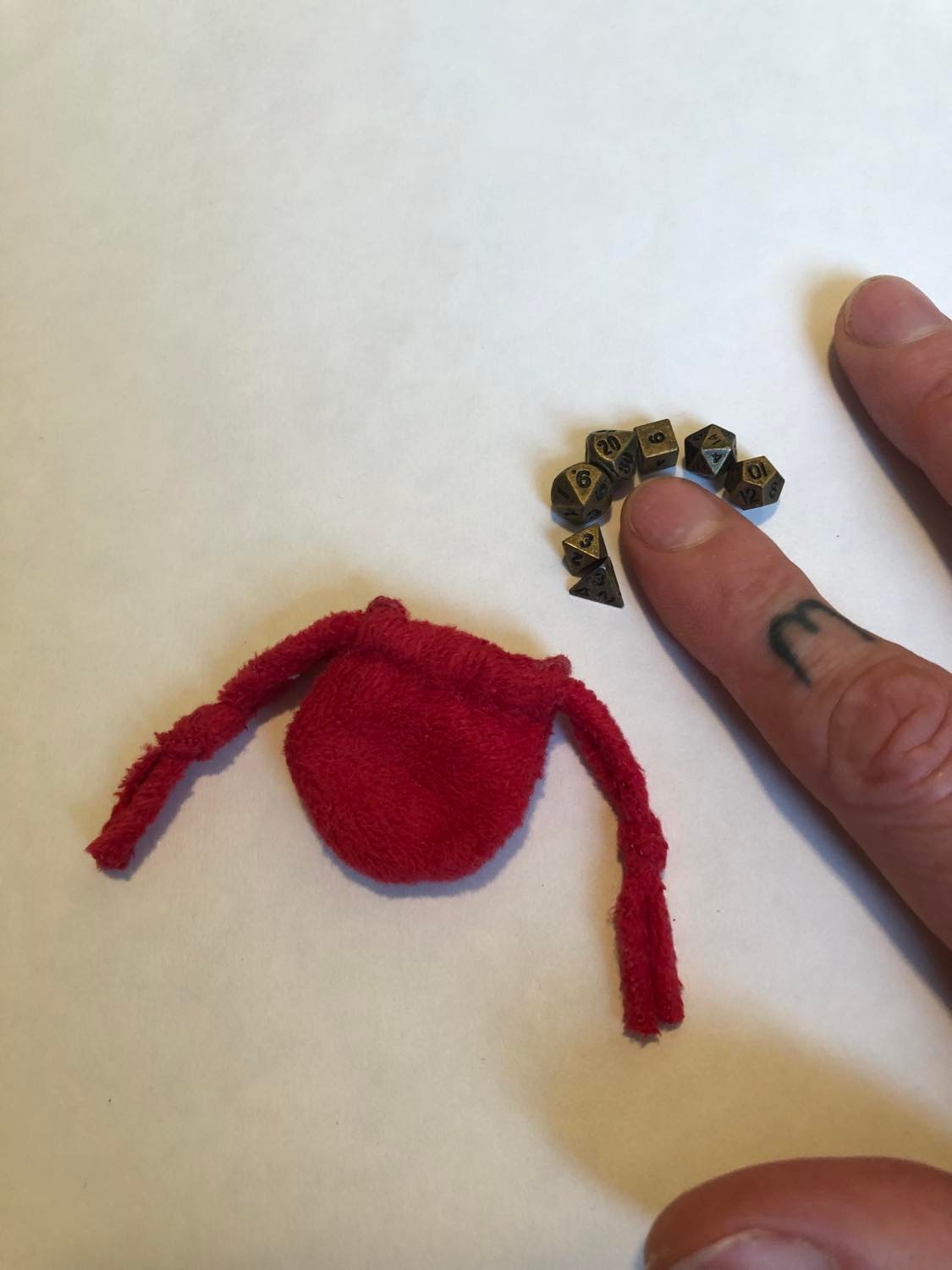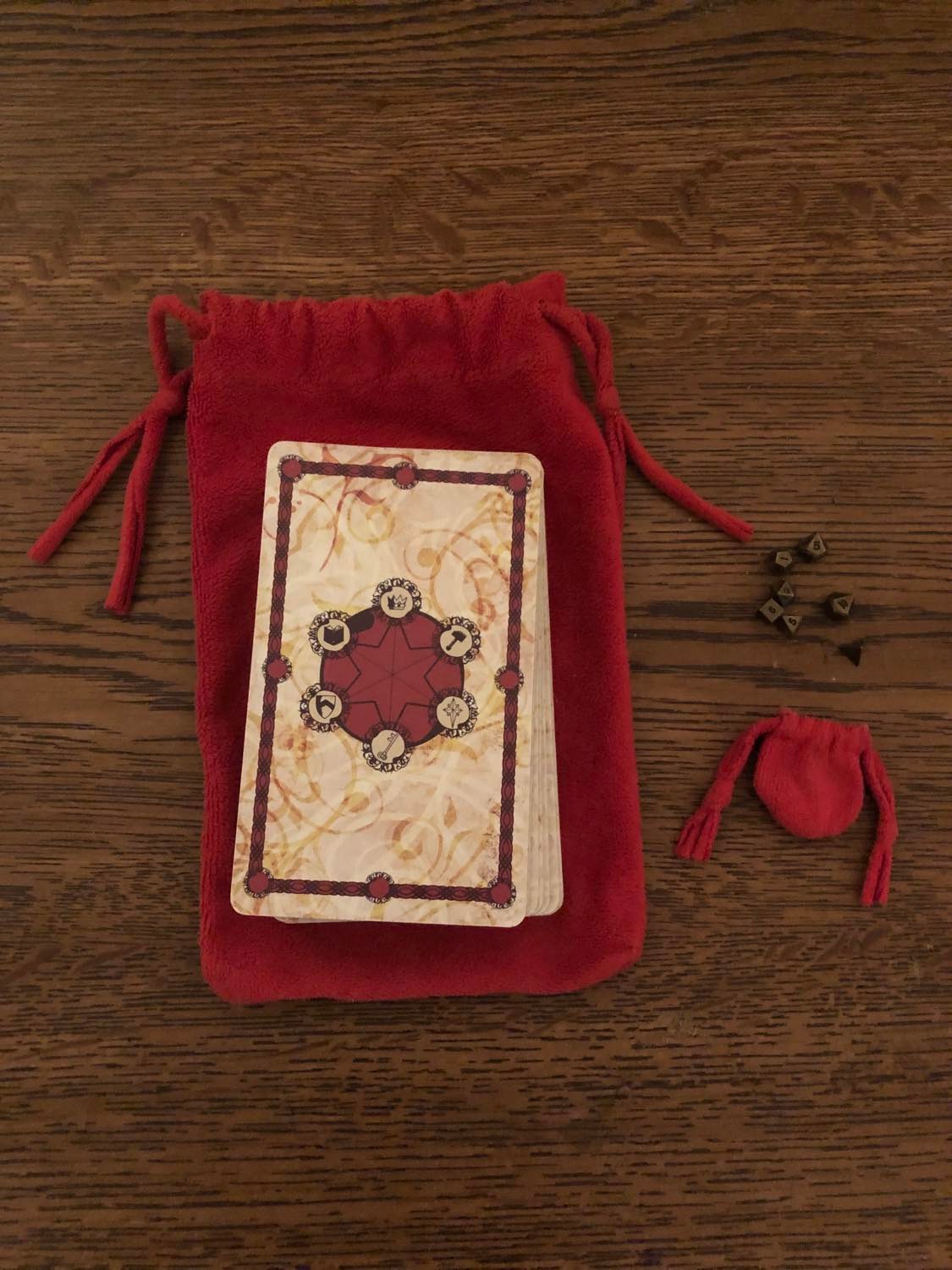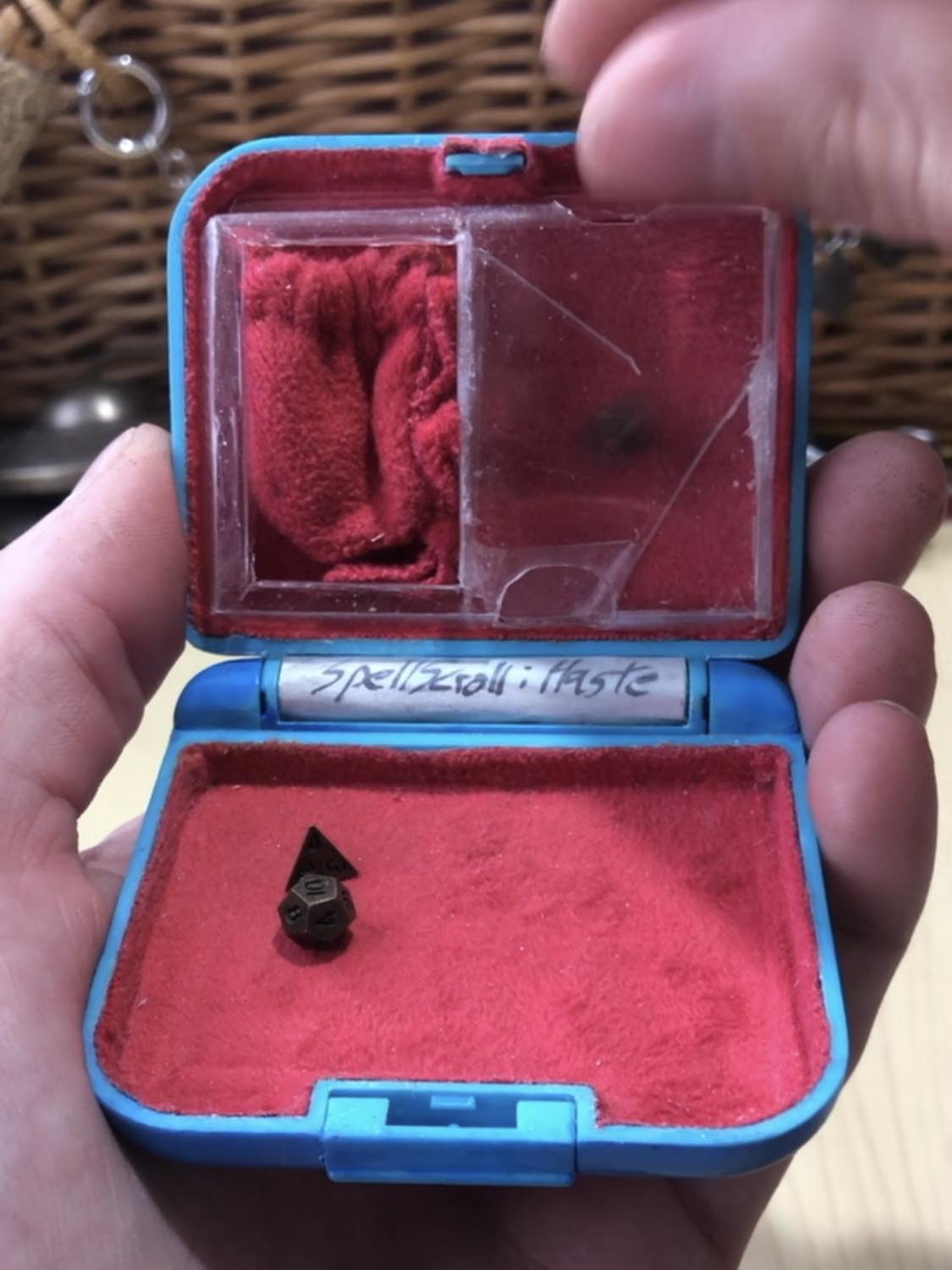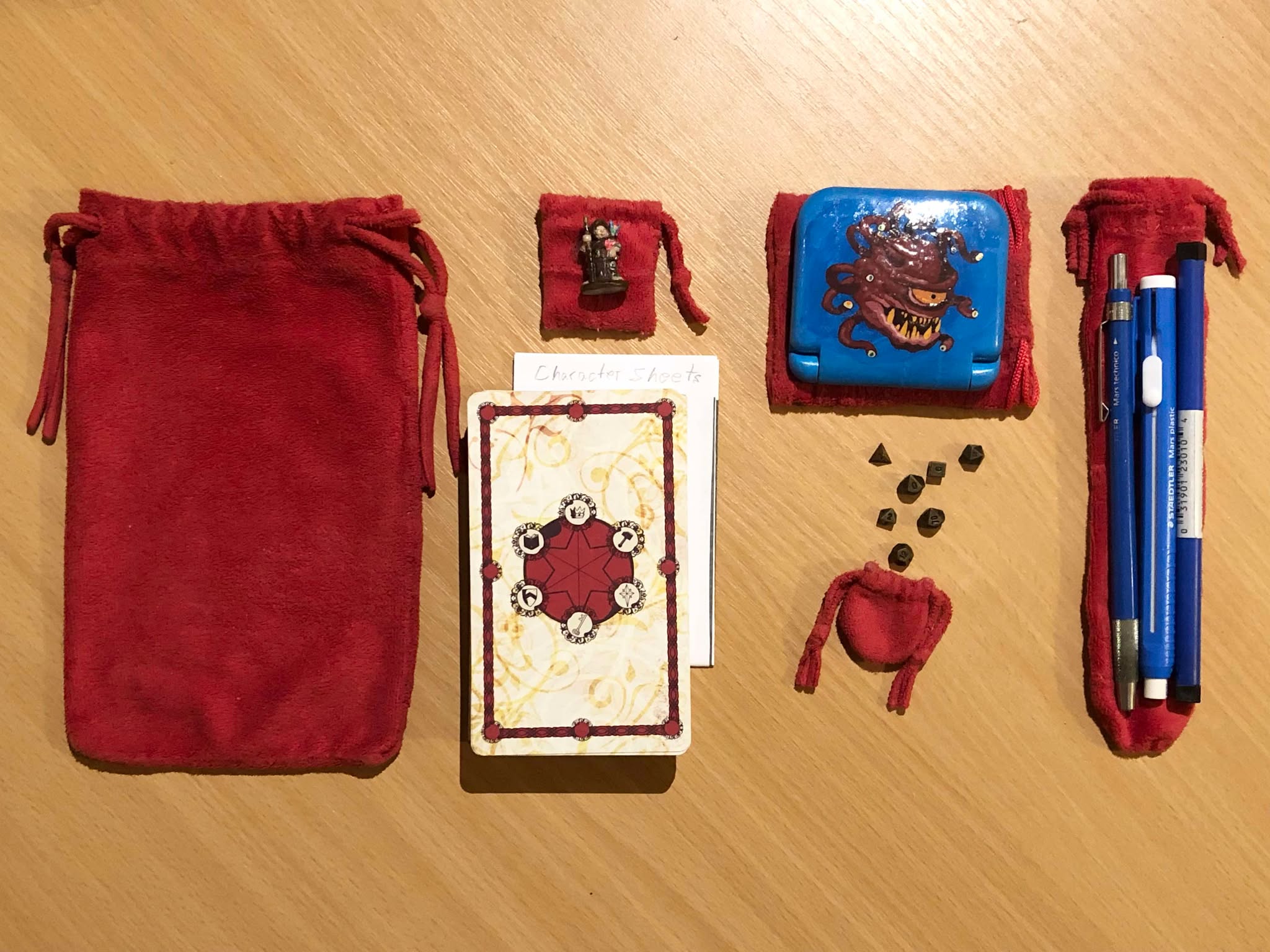 ---

October 2, 2023

. . . . And then there was released a second edition of the deck!!! Strangely about 1/2 cm taller, but much shinier, and with much redesigned cards! And a cool embossed back to them as well, WOW I was not expecting to see this when I ordered it. And I had to order it, like camman, that was gonna happen.

So what I'm thinking is, as described in this song-a-day (youtube link, also shows the very first card draw), the older deck works well for the dusty ol' kicking around in my witch's bag kinda style, kinda old, kinda scraggly, kinda rough. And for at conventions, faires, that type of thing, that's when the fancy deck comes out. So that works well. Pics first, then some more details below. Have a look at the first pics, and some of the comparisons/differences between the two decks.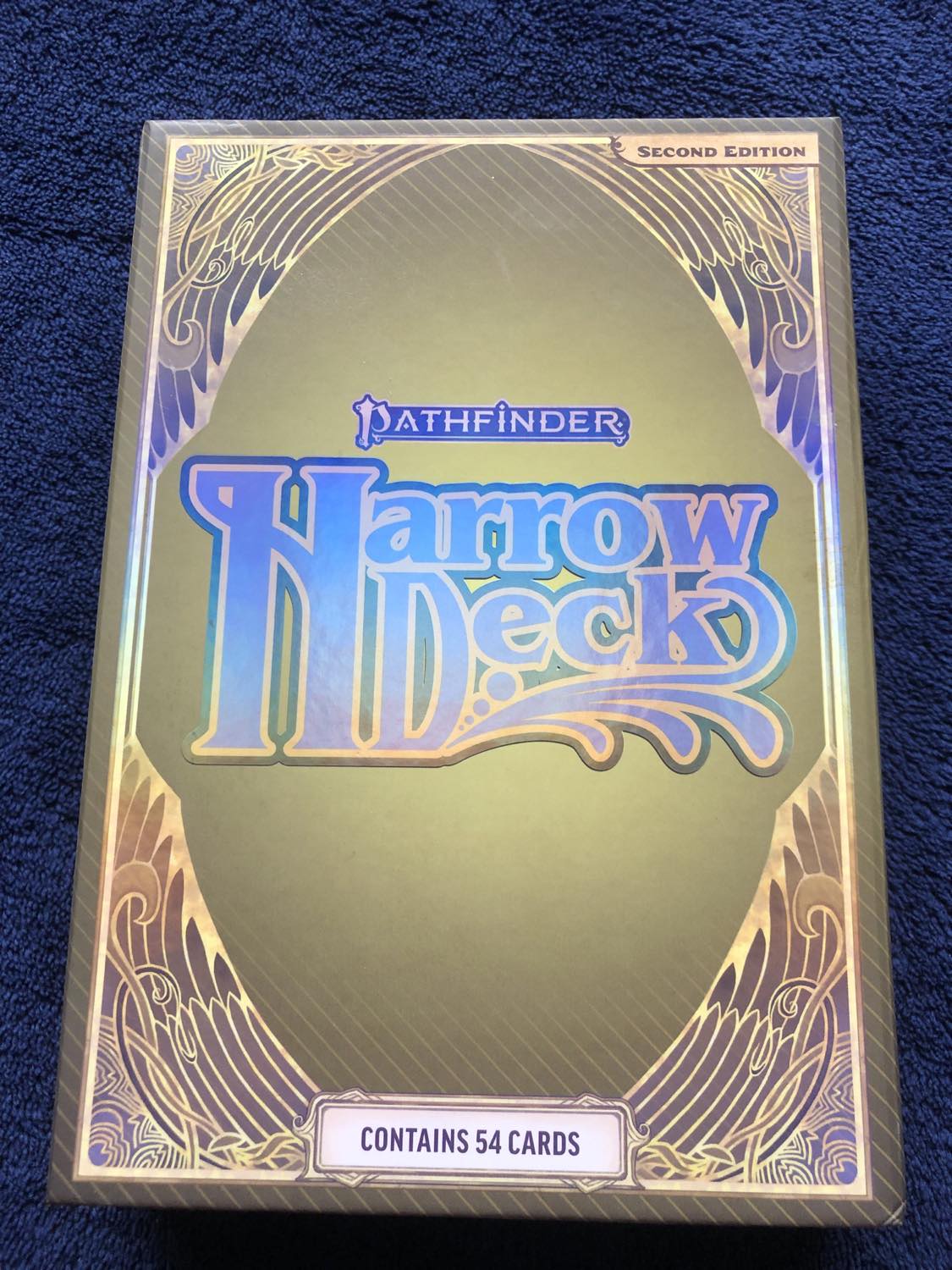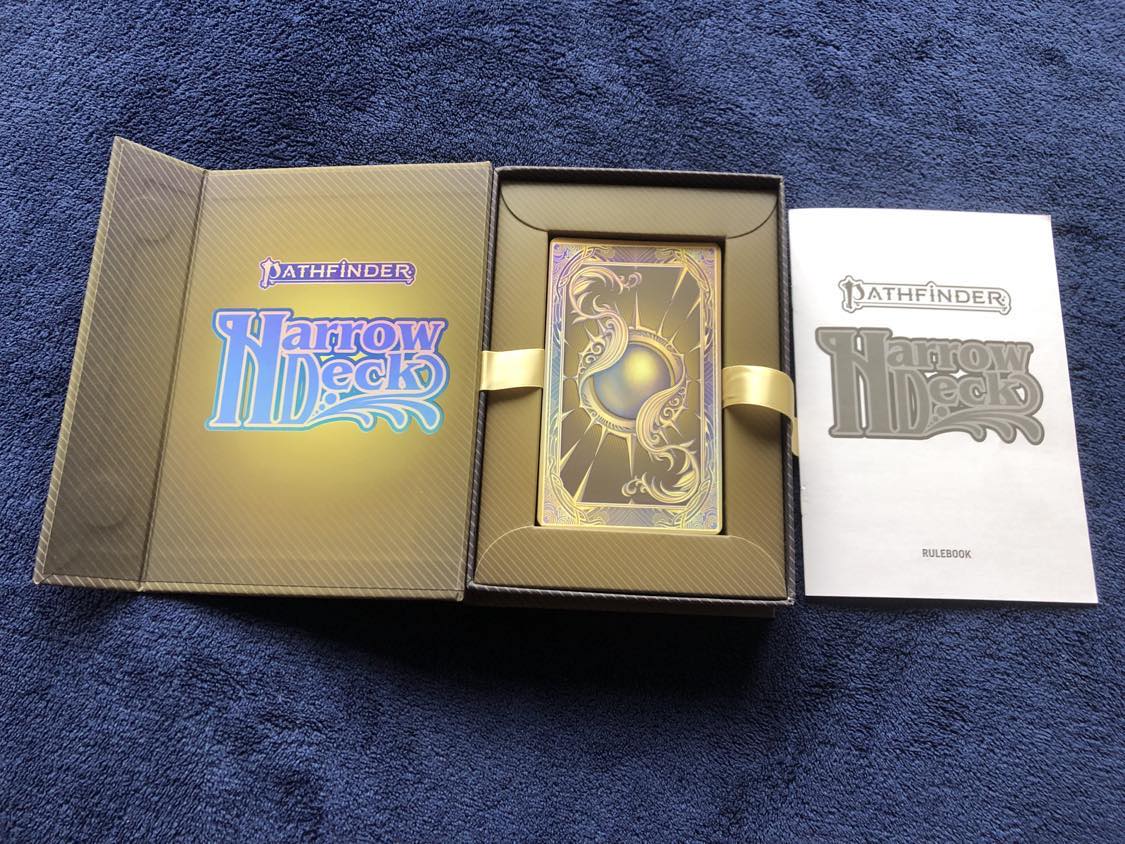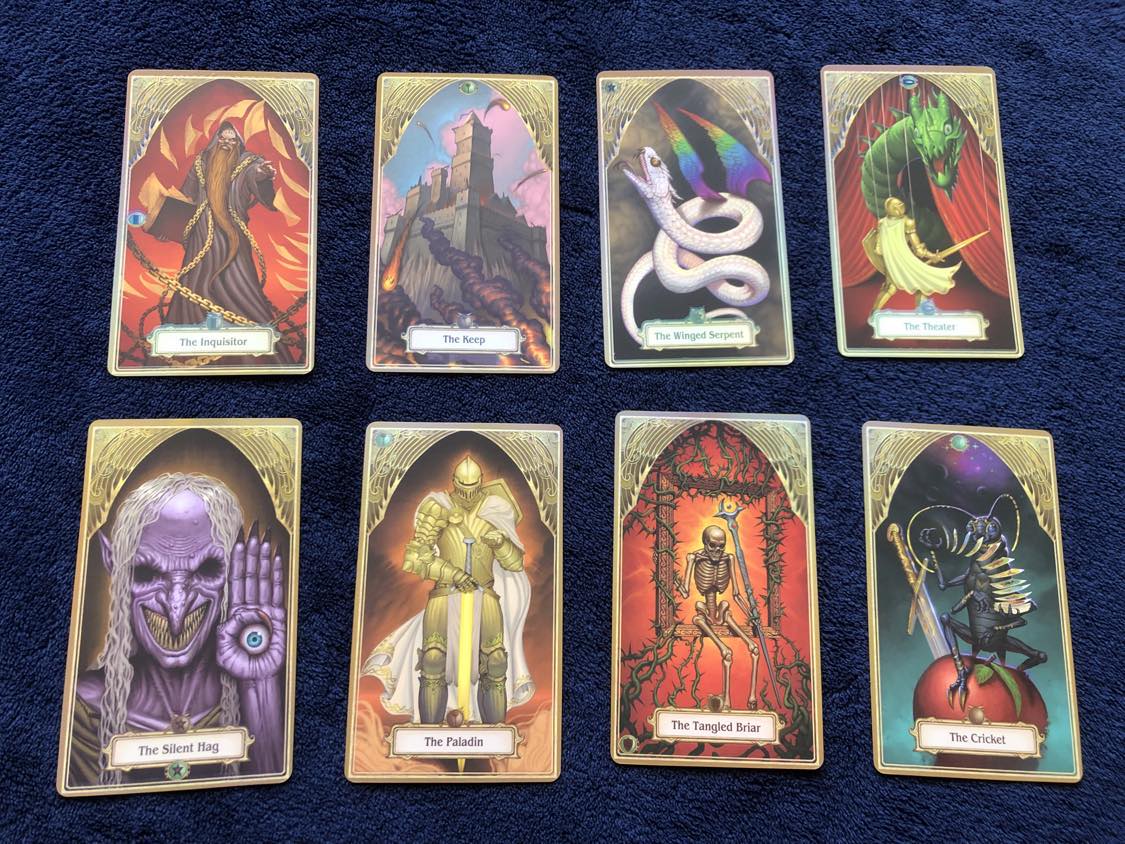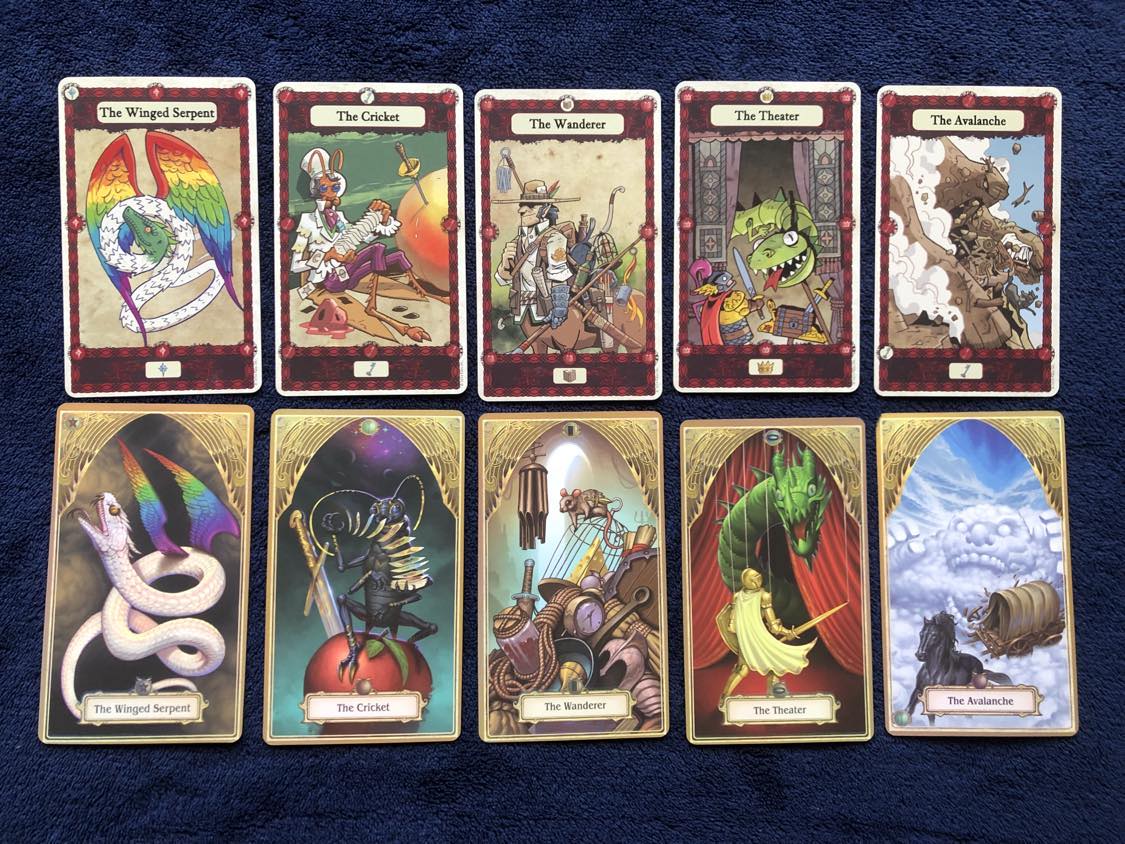 So the first three pictures show the 2e box and a handful of cards. SO much shinier, fancy fancy box (as compared to the original above), and much creepier cards, they were definitely looking to ramp up the creepy factor on these. Don't worry, we still got Dennis lol. The fourth picture shows the comparison between some of the 1e and 2e cards, and you can see some are similar, and some are VASTLY different. Although, this was released in 2e to go along with the Stolen Fate adventure path from Paizo, which might be cool to collect along the way, though for my purposes it will mainly be the Harrow Deck of Many Things. Yah we already got a paper in the box for that lol.

Several other things of note in the 2e version is, several of the cards were renamed, like The Idiot became The Fool for some reason, the others in that link. And as well... my ant queen! They've gone and changed The Queen Mother! Completely removed the image of an ant on the front, awwwww, I'm so glad that I still have the 1e deck lol. Like, I assume this change (and I imagine all of the others) was to better fit with the 2e adventure that it's associated with. And on that point, I am SO glad that they brought around a 2e version of the deck regardless, and didn't let it fade into 1e, keep it alive. So it's awesome that, and wow, it is SO bright and shiny and fancy, the imagery, just wow, incredibly detailed and a lot more elaborate.

It's still, of course, going to be deck-of-many-thingsed, and like I said, will be my fancy deck to pull out at faires, while the scraggly ol' one will ride in my backpack, for travellers on the go, mweeeeeeeeehehehehehehehehehe.